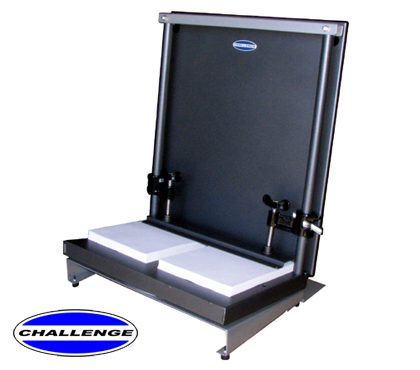 Challenge Handy-Padder Padding Press
Put away your bricks, blocks, and boards. The Challenge HANDYPADDER design provides a portable and compact table top padding device for the right price. The convenient turn style base of the HANDY-PADDER allows the operator to load, clamp and pad from a single position.
The HANDY-PADDER has an extended metal stabilizer designed to eliminate tipping problems when loaded with stock.
Features
SIMPLE 1-2-3 OPERATION
Ease of operations turns padding services into a value-added profit center.
1-LOCK & LOAD: Lock the removable plate in place. The 8° table slant allows gravity to do all the work of aligning stock and keeping it square. Load up to 8,000 8-1/2" x 11" sheets of 20# bond - even more with smaller sheets.
2-CLAMP: After loading is complete, aligned stacks are clamped in just seconds. Place the clamping bar on top of your paper, slide the self-locking, quick-release clamps down to the bar and tighten the screws.
3-TURN & PAD: Turn the table around and remove the plate for complete access to your padding surface.

Specifications
Specifications
Maximum Lift Height: 16" / Maximum Lift Width: 17-3/4" / Lift Depth: 4" to 13"+ / Capacity Example: 8,000 8-1/2" x 11" 20# bond
Dimensions
Size: 17" D x 21" W x 26.2" H / Shipping Weight: 55 lbs.