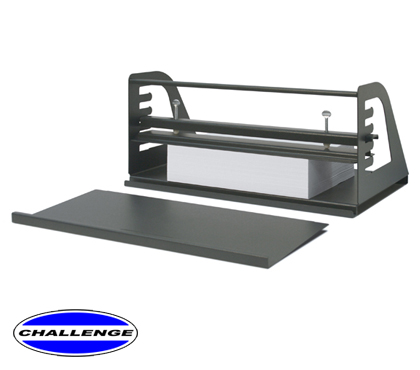 Challenge MiniPadder Padding Press
This innovative and low cost table top padder offers a convenient, portable, and simple to use padding solution for those low volume padding needs.
Weighing only 15 pounds, the Mini Padder can be easily stored in a cabinet when not in use.
With an overall dimension of approximately 12" long x 19" wide x 9" high, this device can be shipped easily via most small package carriers such as UPS or FedEx.
Features
SIMPLE 1-2-3 OPERATION
Ease of operations turns padding services into a value-added profit center.
1-LOCK & LOAD: Lock the removable plate in place. Load up to 5" high and up to 11" x 17" sized sheets.
2-CLAMP: After loading is complete, place the clamping bar on top of your paper, then lock in the clamping plate, and then tighten the thumb screws.
3-PAD: Remove the plate and apply the padding compound.

Specifications
Specifications
Maximum Lift Height: 5" / Maximum Lift Width: 17-1/2" / Lift Depth: 4" to 11"+
Dimensions
Size: 12" D x 19" W x 9" H / Shipping Weight: 20 lbs.