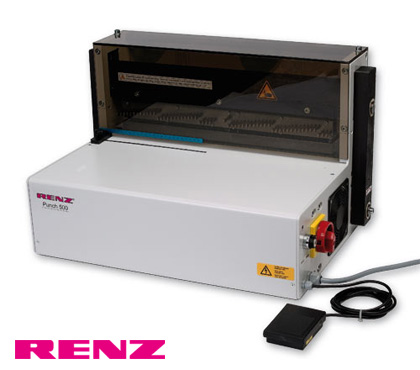 Renz Punch 500 Series - 19.68" Punching Machine
The Renz Punch 500 Series are heavy-duty, professional punch machines with the versatility to do all types of book and calendar punching production.
The Punch 500 can easily be operated by a foot switch or micro switch, while sitting or standing.
Horizontal paper insertion guarantees punching accuracy on wide formats.
Quick and easy die change in just a few minutes.
Punching dies for wire comb binding, plastic and spiral binding are available in QSA execution (QSA quick size adjustment = quick cancellation of punch pins).
Video

Features
- Punching dies for all types of ring wire, plastic comb, coil, calendars and custom dies are available.
- Optional side tables for improving product workflow and output.
- Fast die changes.
- Optional 2-part split dies for book and calendar work.
- Half dies allow for no die change i.e. 3:1 on the left side and 2:1 on the right side.
- QSA (Quick Size Adjustment) for high flexibility of different paper formats.
- Horizontal paper feeding for easy product loading.
- Custom dies are available for the Punch 500 ES or Punch 500 HD models
- Punch 500 and Punch 500 ES are bench top models that can be mounted to an optional stand with side tables.
- Punch 500 HD comes with stand, but side tables are optional.

Specifications
Specifications
Mechanical cycles per hour: up to 3,000 / Min. punching width: 2.36" / Max. punching width: 19.68" / Min. unpunched length: 2.76" / Max. unpunched length: 31.49" / Max. punching thickness: 0.14" / Punching operation: Micro switch or foot pedal / Punch dies available: 3:1, 2:1 ring wire, calendar, coil, plastic comb, tear-off / Die type: Standard or Professional / Selectable punch pins (QSA): Optional / Custom dies: can be ordered for Punch 500 ES or Punch 500 HD models / Variable margin depth: No / Die changeover time: 5 minutes
Dimensions
Size (table top): 26.4" W x 17.7" D x 15.75" H / Weight (table top): 247 lbs. // Size (stand w/ side tables): 59" W x 23.6" D x 41.4" H / Weight (stand w/ side tables): 462 lbs.
Electrical
230 VAC 3-phase 60 Hz