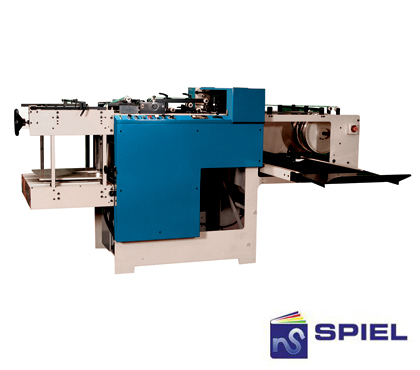 Spiel Sterling Digipunch - 20" Punching Machine
The Sterling Punchmaster is a high speed automatic paper punch and the paragon of automatic punching, considering its speed and versatility.
It will punch for Double Loop Wire Binding, Spiral, Plastic Coil Binding, T-Slots, or Plastic Comb Binding, with available punch dies. It will also punch double row wrap around covers, windows, doorhangers, and tags. The machine can punch any shape hole, anywhere on the sheet.
The Punchmaster can be pre-loaded while running so that the operator is free to off-load the sheets and deliver them to the binder. The shingling of the sheets on the vari-speed conveyor maximizes efficiency and facilitates quality control.
An air feeder is available enabling the punching of: Heavy board, signatures, or special stock. A jogger may be added to the system by simply lifting up the delivery tray and placing the jogger at the end of the conveyor.
Video

Features
PAPER STABBER - The stabber can be set to stab 2 - 30 sheets.
LIFTER STABBER - The optional Lifter Stabber lifts the paper prior to stabbing. This is especially useful when punching thicker stock that can split.
DIE - The punch through Die allows for punching anywhere on the sheet, useful for windows, doorhangers & wrap around covers. The sheet passes through the die and then into the turn around drum.
MICRO DIE ADJUSTMENT - The patented Micro Die adjustment allows you to fine tune the centering of a sheet.
AIR FEEDER - The optional Air Feeder is designed to feed signatures, board, plastic, leatherette, or even pocket folders. It lifts one sheet or signature at a time, prior to feeding it into the belts.
DRUM BYPASS - The optional Drum Bypass is a belt changeover system for heavy board. This will enable the sheet to be delivered without having to bend by traveling around the drum.
CALENDAR HOLE PUNCH OPTION - Punch hanger holes on the face of a calendar while simultaneously punching a hole pattern on the spine of the sheet.

Specifications
Specifications
Mechanical cycles per hour: up to 7,800 / Min. punching width: 4" / Max. punching width: 20" / Min. unpunched length: 5" / Max. unpunched length: 22" / Max. punching thickness: 30 sheets of 60 gsm / Punching operation: Automatic / Punch dies available: ring wire, coil, plastic comb
Dimensions
Size: 108" L x 90" D x 60" H / Weight: 2,500 lbs.
Electrical
220 VAC 1-Phase 60 Hz 12 Amps (without air feeder)