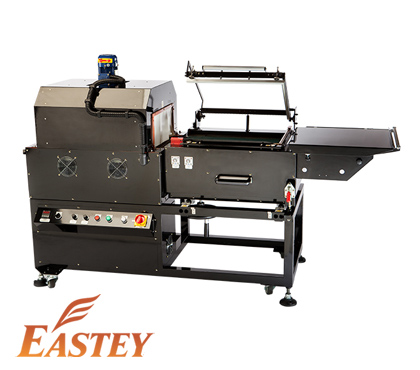 Eastey VS1620 Combo Unit Sealer & Shrinker
The Value Series Combo Unit combines a rugged EASTEY L-sealer and shrink tunnel on a common frame with one power source. This allows for quick setup, perfect alignment and consistent product sealing. A common base with casters makes this a very portable system for transportation within the plant.
Proven reliable over and over again, these intermediate level EASTEY L-Sealers provide you with all the quality features found in much higher priced machines. They are designed and built to give you all the performance features needed for positive sealing a wide variety of films including polyolefin and PVC.
Video

Features
- Designed to seal polyolefin or PVC shrink films
- All-welded main frame from 12 gauge steel
- Seal head equipped with gas shock head return
- Dual locking magnet clamps apply consistent pressure across seal bar
- Automatic cycle timing with adjustable dwell time
- Solid state temperature control adjustable for a variety of films
- Wide product tray provides large work area
- Seal head can be raised or lowered to center-seal product
- Film rack positioned beneath product tray for simple film loading
- Adjustable pin perforator provides air evacuation
- Positive shrinking of all products assured with consistant air flow
- 15" wide x 8" tall x 26" long shrink chamber
- Variable speed tunnel conveyor and variable air flow for a variety of shrink applications
- Rugged stainless steel mesh belt conveyor or live roller conveyor on tunnel
- Seal size of 16" x 20"
- Maximum film width up to 15"
- Heavy duty casters for transportation within plant
- Easy to use design requires minimal training and maintenance

Specifications
Specifications
Tunnel Chamber Size: 26" L x 15" W x 8" H / Conveyor Width: 13.5" / Conveyor Length: 13.5"
Dimensions
Size: 86.5" W x 32" D x 53.25" H / Shipping Weight: 750 lbs.
Electrical
220 VAC 1-Phase 60 Hz 30 Amps