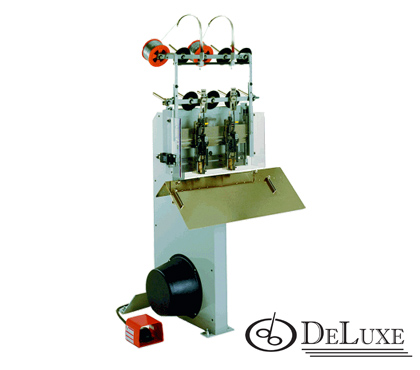 DeLuxe M17 Industrial Multi-Head Stitcher
Pamphlets, checkbooks and ticket books are quickly and neatly stitched, using the M17 Multiple-Head Stitcher.
A single adjustment sets the compression and wire draw on all of the heads simultaneously.
The M17 accommodates ten 26D Heads or eight G8 Heads.
Perfect for small pamphlets, checkbooks and sales-books.
A single adjustment sets the machine for thickness of work.
Specifications
Specifications
Capacity: from 2 sheets to 0.31" with a G8 Head; from 2 sheets to 0.25" with a 26D Head / Wire Sizes: 21-25 round or 21x25 flat / Clinch: moveable active clincher for flat stitching / Table: 33" wide heavy duty, 14" throat for flat and saddle work / Speed: up to 215 cycles per minute
Dimensions
Shipping Size: 30" W x 35" D x 64" H / Shipping Weight: 555 lbs.
Electrical
115 VAC 60 Hz