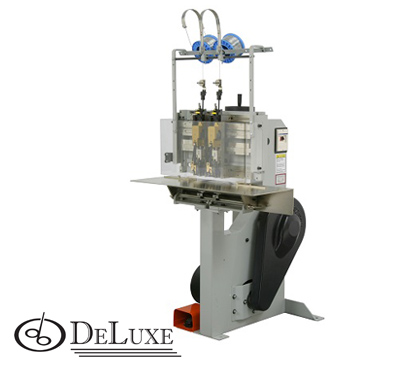 DeLuxe M27 Industrial Multi-Head Stitcher
The newly designed M27 can accommodate up to four stitcher heads; either the conventional 18D or the G20 Side-Feed Heads.
The M27 is our highest capacity multiple-head stitcher.
One adjustment sets the machine for thickness of work.
Specifications
Specifications
Capacity: from 2 sheets to 0.75" with a G20 Head; from 2 sheets to 0.56" with a 18D Head / Wire Sizes: 20-28 round or 19x21-1/2, 20x24 and 21x25 flat / Clinch: moveable active clincher for flat stitching / Table: 33" wide heavy duty, 14" throat for flat and saddle work / Speed: up to 150 cycles per minute
Dimensions
Shipping Size: 30" W x 35" D x 64" H / Shipping Weight: 580 lbs.
Electrical
115 VAC 60 Hz