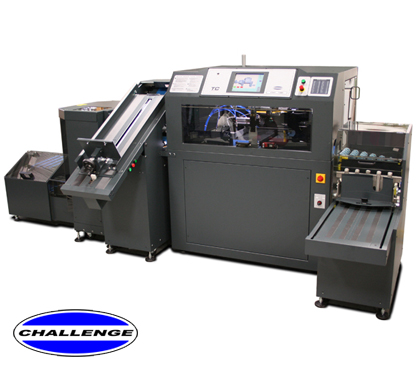 Challenge CMT-130TC Three Side Trimmer
The CMT 130TC On-Demand Book Trimmer incorporates sophisticated automation into the finishing trim operation of perfect bound books. The book trimming process no longer needs to be a labor and cost intensive task. The Challenge CMT 130TC provides professional high-quality trimming for the wide range of book sizes in today's publishing marketplace.
The CMT 130TC is designed and built in Michigan, USA. Powerful hydraulic cutting and clamping pressure effortlessly cut up to a 2" thick book. A distinct clamp design and a bi-directional knife stroke assures that the knife always cuts into the spine providing a clean damage-free book finish.
The CMT 130TC utilizes servo and stepper motors to accurately position books for cutting. Full digital control of the set-up allows book size changes in less than 10 seconds. There is no need to perform manual adjustments or exchange book clamps. The CMT 130TC exclusively features simultaneous in-line and near-line feeding capability.
Features
- Trims books up to 12" tall x 9" wide and down to 5.82" tall x 4" wide
- Full high-speed digital control for fast and accurate set-ups in under 10 seconds
- Bar code system for fully automated set-up
- Simultaneous in-line and near-line book feeding option to maximize utilization
- Automatic size detection of untrimmed book blocks
- 10.5" color touch screen display
- Precision knife depth control reducing cut stick wear and knife depth machine adjustments
- Automated precision finish cut mode for thicker books and toner chipping issues
- Live graphical display of book path
- Thickness range up to 2"
- Hydraulic powered cutting
- No tools or clamp boards required during book size changes
- Integrated computer diagnostics with graphical display of sensor locations
- Strong knife assembly and table support design to minimize deflection

Specifications
Specifications
Untrimmed Book Size (Spine x Fore-edge): 7″ x 5″ to 13″ x 9.5″ / Finished Book Size (Spine x Fore-edge): 5.82″ x 4″ to 12″ x 9″ / Maximum Top Trim: 5.5"/ Maximum Book Thickness: 2.0" / Minimum Book Thickness: 0.1" / Production Speed: up to 500 books per hour in multi-book mode
Dimensions
Due to the variety of configurations available, click on the brochure link near the top of this page.
Electrical
208-230 VAC 3-phase 60 Hz 25 Amps
Compressed Air Required
Minimum 9 cfm at 90 psi