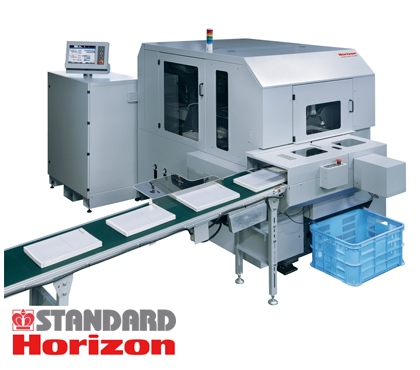 Standard Horizon HT-1000V Three-Knife Trimmer
The Standard Horizon HT-1000V variable three-knife trimmer achieves true on demand book production of variable sizes. The trimmer operates in-line with Horizon perfect binders or off-line to deliver a wide range of input and output sizes for completely variable production. Setup and variable trimming are achieved automatically by reading a barcode printed on the cover sheet of each book at the entrance of the trimmer, with no operator input required. The heavy duty construction allows the trimmer to be run in a 24/7 production environment with consistent high quality finishing. A uniquely designed, automated trim removal system ensures consistent running without jamming.
The system can also trim stacked books of the same untrimmed size and finished format at the same time, up to 2.55″ in height, for high productivity when variable trimming is not required. For same size production runs, the trimmer can be set up offline via the touch screen by inputting the desired untrimmed and finished size.
Video

Features
Automated Set Up
The HT-1000V is set up automatically on the fly by reading a barcode at the entrance of the trimmer. The system is also capable of autmomatic set up from the operator panel for same size production runs.
Variable Size Trimming
One to one book production with variable sizes can be produced. Both untrimmed and trimmed sizes can be variable for true variable format production.
In Line Production
The HT-1000V can be placed in line with Horizon perfect binders to maximize finishing automation and minimize human operator error.
High Speed Operation
Maximum cycle speed is 1,000 books per hour.

Specifications
Specifications
Untrimmed Book Size (Spine x Fore-edge): 5.825″ x 4.13″ to 13.78″ x 12.6″ / Finished Book Size (Spine x Fore-edge): 5.705″ x 4″ to 13.39″ x 11.815″ / Trim Width: Fore-edge .04″ to 4.33″, Top and Bottom .04″ to 3.15″ / Trim Height: .04″ to 2.56″ / Production Speed: 400 to 1,000 cycles per hour (higher production possible with piled books)
Dimensions
Size: 126" D x 79.8" W x 67.8" H / Weight: TBA
Electrical
200-220 VAC 3-phase 60 Hz
Compressed Air Required
14 cfm at 125 psi