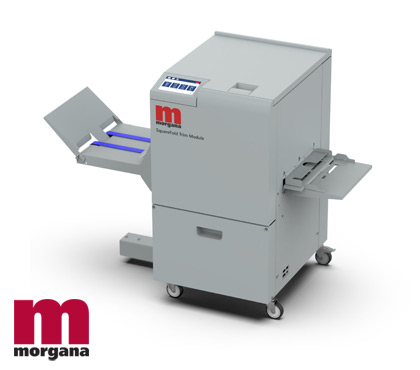 Morgana SFT SquareFold Trimmer
The Morgana SFT SquareFold Trimmer combines square folding and trimming in one module. An industry first.
This machine is the perfect complement to any copy center or office looking to add value to the finished booklet.
Simply insert a stapled and folded booklet and out comes a professionally finished document – with a sharp square folded spine and neatly trimmed front edge.
The SFT module can also process booklets for bleed trimming book by book in an operator assisted process. Full bleed booklets are now an option for small print shops or office installations.
Video

Features
- The look of a Perfect Bound book
- Makes books from up to 200 pages (up to 50 sheets)
- Operator Assisted Three-Side Trimming
- Touch screen interface
- Small Footprint
- Wide application range
- For finishing books made on your existing booklet maker

Specifications
Specifications
Book thickness: up to 200 page booklets (50 sheets) on 20# bond paper* / Paper weight range in PowerSquare: 17# bond - 130# cover / Paper size: Max. 12.6" W x 12.2" L - Min. 5.85" W x 4.14" L
Dimensions
Size: 27.6" D x 55.7"W x ??"H / Weight: TBA
Electrical
TBA
*based on short grain uncoated paper