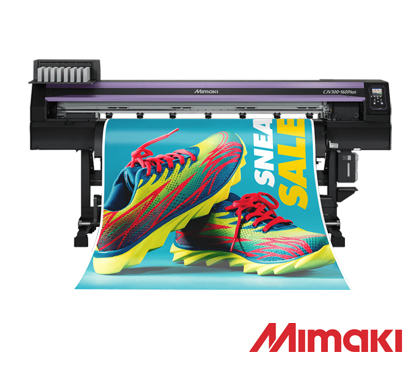 Mimaki CJV300 Plus Series - Wide Format Printer/Cutters
The CJV300 Plus Series delivers a wide array of capabilities providing high-speed, print and cut application opportunities.
Advanced printing technologies allow you to achieve more vibrant reds and oranges with eco-solvent inks including; Orange, Light Black, Silver Metallic and White.
Also, precision cutting optimizes your workflow for quick delivery of signs, banners, decals, posters, vehicle graphics, POP, labels, and even t-shirt transfers.
Available in two widths to suit your needs (64" and 54").
Video

Features
- Available in 54" and 64" widths with print speeds up to 1,140 Square Feet per Hour
- Print and cut capability in one unit
- Ability to pre-cut before printing to prevent film separation
- ID Cut Function for automation and unattended operation
- Optional economical 2-liter bulk ink system for long running jobs
- Even ink drying with three-way intelligent heater
- Reusable Mimaki Eco-Cartridge on SS21, BS3 and BS4 eco-solvent inks
- Automatic media take-up reel
- USB/Ethernet connectivity
- RIP software RasterLink6 included (Customer needs Adobe Illustrator for cut file creation)
- Choice of eco-solvent ink or dye-sublimation ink sets
- Eco-solvent: 10 color options including Silver, White, Orange and Light Black inks
- Dye-sublimation: 6 color options including Light Blue and Light Magenta inks

Specifications
General Specifications
Printhead: Two on-demand piezo heads in a staggered array / Print resolution: 360 dpi, 540 dpi, 720 dpi, 1,080 dpi, 1,440 dpi / Maximum media thickness: up to .04″ (1 mm) / Maximum media roll weight: 99 lbs. / Ink type: SS21, ES3, Sb54 / Cut Speed: up to 11.8″ per second / Maximum cut pressure: 450 grams / Cutter Types: Eccentric cutter, Blade for small character, Blade for reflective sheet, Blade for fluorescent sheet, Blade for PVC with low-pressure, Ball point pen
CJV300-160 Plus - Dimensions
Maximum print width: 63.4″ / Maximum media width: 63.8" / Size: 109″W x 28″D x 55″H / Weight: 392 lbs.
CJV300-130 Plus - Dimensions
Maximum print width: 53.6″ / Maximum media width: 54" / Size: 99″W x 28″D x 55″H / Weight: 368 lbs.
Electrical
115 VAC 60 Hz x 2 (Need two seperate 15 amp circuits, or one 20 amp circuit)
Operational Environment
Temperature: 68° – 86° F / Relative Humidity: 35–65%